Ropes courses have been around since 30s, but have recently become more popular with around 1,200 courses in the UK alone. They have long been used for development of skills & character, sometimes as therapy and of course for fun!
The European Ropes Course Association (ERCA) was established in 2003 and represents the interests of ropes course builders, instructor's, operators and trainers. In addition to work on standards for ropes course builders they have developed courses for instructors.
Trekco http://www.trekco.com is a Lewes based adventure company that also has a handy outdoor shop in the town (but easy to miss)http://www.gearshack.co.uk  They run outdoor adventure activities for up to 22,000 participants per year. Ropeworks was represented by Ian Roberts and are based in North Wales. http://www.ropeworks.co.uk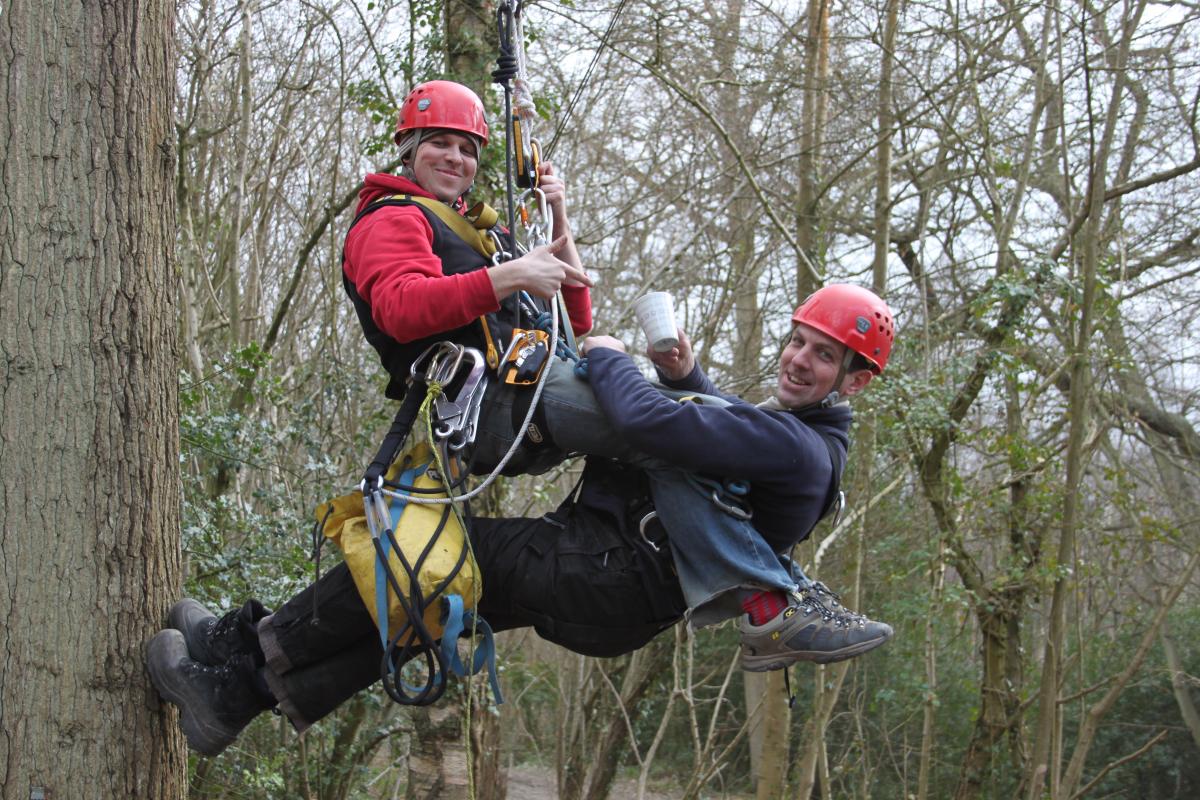 I decided to go on this course for a number of reasons, one of which was to get a fresh perspective on aerial activity generally and look at the way recreational industry deals with rescue in particular. Not least this was a chance to jump off a few ledges! Other participants were mainly very experienced full time outdoor instructors (MIA, Single Pitch Award etc) and the rest were newer entrants to the industry. I was impressed with the high standard and enthusiasm of the instructors & participants.
The first 3 days covered ropes course instruction - theory, practice and then assessment on the last day. There was a heavy emphasis on soft skills – so important in team and skill development and also an overview of health & safety legislation from a different angle to the forestry industry. Most course elements are belayed from a permanent backed up anchor (sometimes moving) with a gri-gri operated by 2 course participants under supervision, up to a maximum of four climbers at any one time.
The final 2 days covered industrial pick off rescue (using Petzl ID and ASAP for back up) of a co-worker. Interestingly they are not working at height when using the course in the same way as the participants but are when carrying out maintenance, hence subject to [email protected]. There was a chance to try a range of abseil methods, including the auto bloc – a French prusik tied in accessory cord below the abseil device to the leg loop of a harness as well as the industrial option of the Petzl ID. Rescue from above was sometimes possible, but the main focus was the worst case scenario from a zip wire with a lift required to get them off their own system. This was achieved by either a small hoist or a mini mechanical advantage pack from Lyon equipment.
For people coming on chainsaw & climbing courses the personal development side of the course might seem a bit irrelevant – but on reflection many are often changing career with financial risk. A positive and challenging experience might be as important as getting the ticket – not the only important outcome!
All of our training team are Lantra approved arborist instructors. Get in touch to get yourself booked on to one of our many courses including chainsaw training, tree cutting courses and LOLER inspection courses.