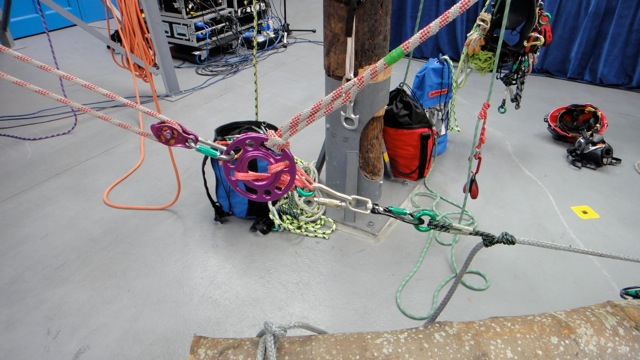 Many readers will have Lyon equipment in their kitbags and will also recognise the company as a supplier of Petzl products, but it is perhaps less well known for the training it supplies in the rope access industry and for its technical symposium.
 At first glance the recent technical symposium might seem rather esoteric, but it was of more than passing interest to the fun-loving arboriculturist. Plenty of the material had direct or indirect application to the industry or included concepts useful for arboriculture.
 The event comprised practical demonstrations on the first afternoon which linked to lectures on the following day:
 Practical
Compatibility of fall arrest harnesses with back-mounted equipment
Working at height in confined spaces
Anchor loading and the effects of component failure on cableway systems
Developments in 3-dimensional rigging systems
Use and misuse of horizontal mobile lifelines
Demonstration of performer flying
 Lectures
The fracture of metals
Fall protection in the wind industry
Using PPE against falls with user weights of more than 100kg
Performer flying and safety at height
Selection and foreseeable misuse of descenders and backup devices
Comparisons of European and North American standards for connectors
Development of new test methods and test dummies for fall arrest purposes
Safer system design – compatibility and correct component configuration
Factors affecting the tensile strength of textile webbings used in mountaineering
 Dr Chris Robbins reassured on the infrequency of metal failure in rope access work equipment; this is mainly down to high safety margins and thorough quality control in the manufacturing process. He outlined the main failure modes for metals with reference to material composition and environmental conditions.
 Dr Dave Marchant of UVSAR outlined the rapidly expanding wind energy industry and the challenges for maintenance at height, often offshore and in confined spaces. He predicted that UK expertise would roll-out across the world in this industry, in much the same way as the telecom boom expanded out to Europe in the last decade.
 For the more fun loving, a lively and truly theatrical review of the technicality behind performance flying was given by Sally Dodd – a veteran of numerous film, concert and theatre flying stunts. Many readers will have seen some of this work on Take That's balloon and elephant tour sets.
 Alan Forrest, IRATA assessor and Managing Director of Fall Factor Zero,discussed the methods by which he has attempted to evaluate new vs tried-and-tested PPE (e.g., Petzl Shunt vs ASAP), by looking at their forseeable misuse in their intended application. He produced a detailed information sheet on each item to assist in the risk assessment process.
 Fred Hall of DMM gave an interesting account of the differing standards that must be adhered to the UK and North America (EN, ANSI and NFPA) in relation to karabiners. In addition to the obvious strength tests, he highlighted the emphasis placed on gate face under the ANSI standard, and also looked at the difference between artificial and real aging of steel karabiners after 10 years of outdoor centre use – the results were reassuring!
 David Riches of (Safety)2  continued the theme by outlining the pros and cons of EN standards in relation to fall arrest PPE, using the dramatic example of sliding fall arresters on vertical rails. He then discussed continuing work into developing anthropomorphic dummies for fall arresting purposes.
 Mark Bridge, Chris Cowell and Richard Allmond presented 3-dimensional rigging (that's two dimensions more than I'm used to working in!) Think of three anchor points and by cunning shortening/lengthening of each of the legs, movement can be accomplished – even to avoid obstacles.
 There were also demos and presentations on compatibility of kit and system design: in short, keep it as simple and as strong as possible, focusing on the use of simple rings and their derivatives – hubs in both rigging and PPE applications.
 On a practical note there were some welcome ideas in the organisation of the event, including a post lunchtime start to allow for travel and a comprehensive record of the presentations via flash drive, plus the food was plentiful and of high quality!
All of our training team are Lantra approved arborist instructors. Get in touch to get yourself booked on to one of our many courses including chainsaw training, tree cutting courses and LOLER inspection courses.