Scott talks to Plumpton FDSc Arboriculture & Forestry Students, 17thJanuary 2012
I was asked to deliver a short presentation to the Plumpton College FDSc 1st year students covering topics of concern to the smaller contractor, as well as the scope of our arboricultural business, and my own route into the industry. At a time of increasing the pressure for the young in both the job marketing and educational costs, finding your particular niche or area of interest has never been more important. 
The students have benefited from the range of guest speakers we had. These include the public sector (Forestry Commission, LA and Tree Officer), private consultancy and the alternative sector. This can be the start of their networking activities. 
Whilst preparing for my talk, I wanted to make sure I convey the wide range of activities we get involved with, as well as the many other options that were open in the past. I liked the way Ben Law (also presented to the students) showed his life connections in the book, The Woodland Way. When I tried to do the same, it just didn't work for me.
To illustrate this, I had settled on a linear timeline approach and showed the different aspects of life. Although the connections are not explicitly shown, they are fairly obvious. Two of the main outcomes for me was to highlight periods of definite change and progressions. Also, to reinforce my view that early experience and interests in life were pointing me in the direction. I eventually settled on this, even though I was not aware at the time!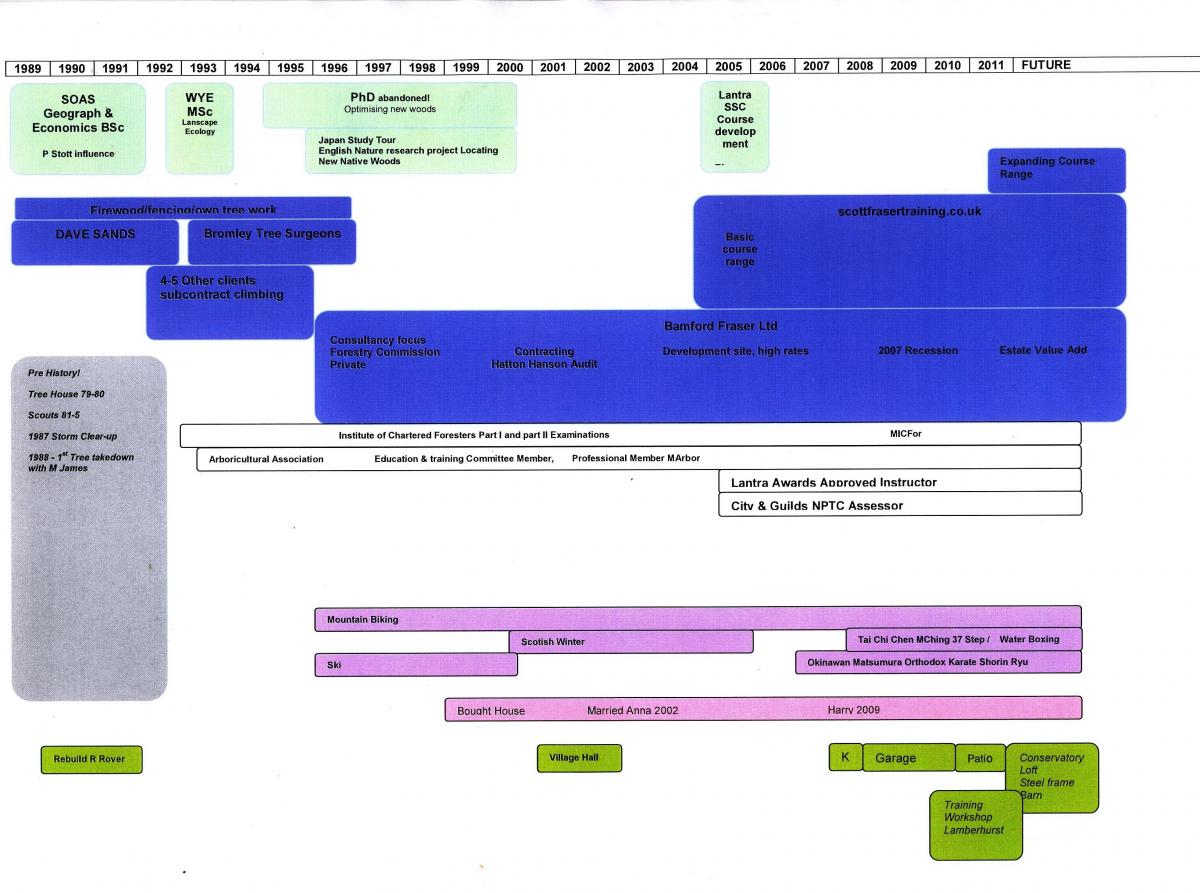 I asked the group "What life experiences do you think are significant in steering you towards a career in Arb/Forestry?". One example would be that at the age of 10, I built a double stage tree house in a Douglas fir. This had a ladder for entry and a hosepipe for the exit. The SWL of the hosepipe was definitely 1 small person, my older and heavier cousin broke it and his ankle! 
When I had left school, I was focused on an academic career. This was, I think, partly because it meant not having to make a final choice on a career, but it also had a lot to do with my perceptions of "status" at the time. Tree work was just the job that increasingly paid the bills for this, but was also enjoyable!
Significant early influences on my arb life included Dave Sands. He still works locally and is an inspiration for hard work. He also has a can-do attitude which I love. Steve Coleman, a "big" climber with a small ego, the late Gordon Sinclair, astute and professional arb businessman. This idea of modelling excellence is a good way to improve yourself or your business. It's worth looking for both world and local (arboriculture or forestry) inspirational role models.
I have moved through various stages in the practical arboriculture, and an important one to mention for leaning is that of the subcontract climber. They just turn up and do, usually, this work is saved.. especially for you. Around this time, I met Rupert Bamford at Wye College on the MSc house Landscape Ecology (see the main photo). We later went on to set up Bamford Fraser Ltd. Our initial aim was more of a consultancy focus, but we also offered contracting in our local area (and South East London). Contracting became more significant and later on in 2001, we had a safety Audit brought on by an industry-wide insurance crisis. The audit was based on the AA scheme which led to a few training refresher requirements. This ultimately was the reason I pursued a training path.
The presentation seemed to be going down well, even though a few students had to be rounded up from the library. John was describing my talks as "inspirational", but then later as "better than expected". The best feedback for me was that one of my basic chainsaw trainees, John, made a special trip to hear more of what I had to say.
All of our training team are Lantra approved arborist instructors. Get in touch to get yourself booked on to one of our many courses including chainsaw training, tree cutting courses and LOLER inspection courses.