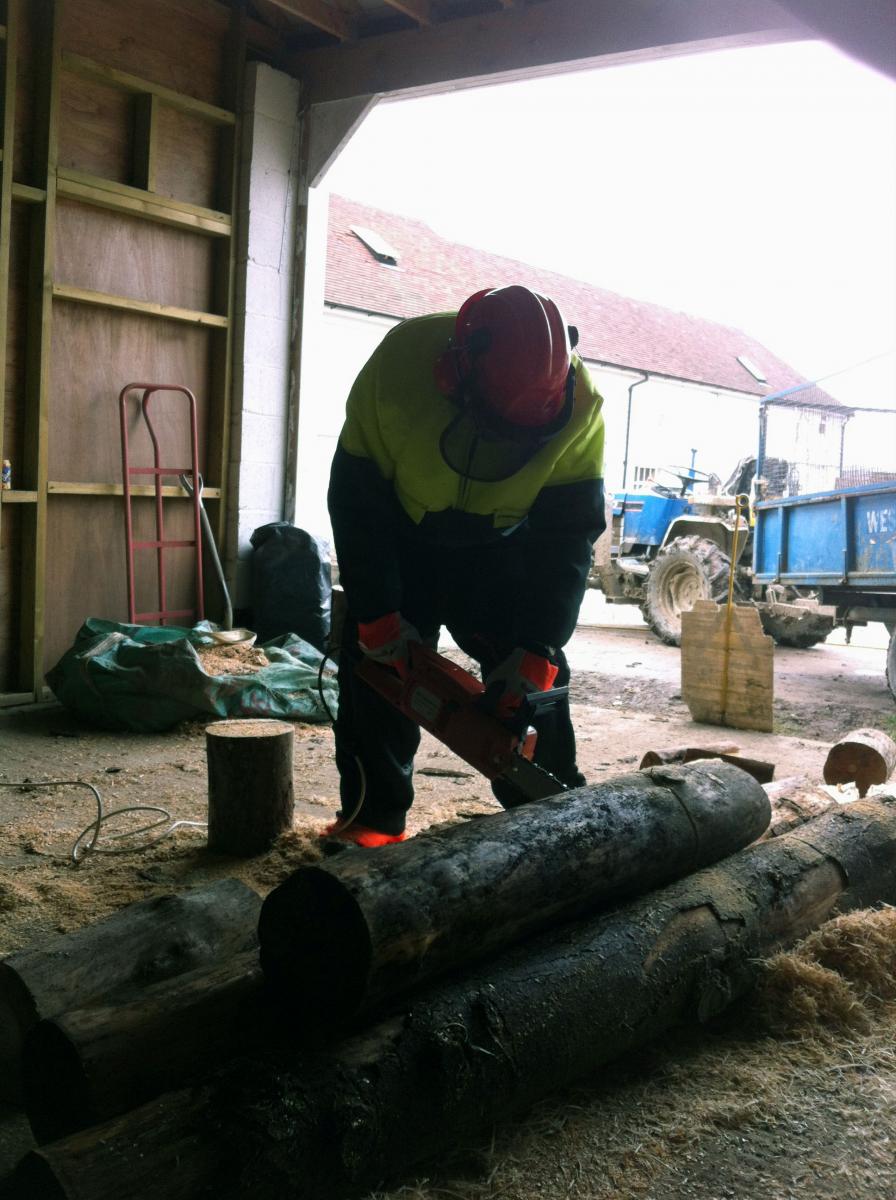 The majority of my clients are either beginning their careers in arboriculture and forestry or are changing career part way through their working lives. A few are a little older perhaps using chainsaws for domestic tasks, but I recently had a retired electrical engineer,  Bill on a domestic chainsaw course who was in his early seventies.
West Kent based Bill is an active member of the Wealden Woodturning Club, and was interested in learning about safe chainsaw handling for the basic preparation of material for turning, and perhaps for the odd bit of firewood cutting. He needed to perform basic crosscutting and ripping cuts in material up to say 18" in diameter.
He also, unusually wanted to use a electric chainsaw and this offered a welcome opportunity to keep undercover for the duration of the training course, which we held at our venue in Lamberhurst.
His Husqvarna 321L Electric Chainsaw had a 2000 watt motor and a surprisingly long 16""/40cm guidebar. The chain is locked until the trigger is pressed, where after a short delay (soft start) the chain powers up, this can also be stopped by the conventional chainbrake (manual & inertia). On the downside chain speed was a little low at around 15m/s and the very short power lead meant fitting a outdoor style connector block was really essential to avoid a bulky conventional plug in the work zone. The chain fitted had multiple kickback protection so bore cuts were a little slow, but for basic crosscutting where noise is perhaps an issue, or to facilitate indoor working the saw has it's place. The saws slimline profile meant there was little option to lock it into a upper leg position, but this is not such a drawback considering the likely applications.
Bill went home with a few log blocks for future turning projects, and I hope with a good range of practical skills and safety points for many years more safe woodwork activity!
I was impressed by his woodturning skill and ingenuity (check out his 12v LED light project) but most of all by his enthusiasm for learning, albeit at a late stage in life – something to aim for in retirement!
http://www.wealdenwoodturners.org.uk
All of our training team are Lantra approved arborist instructors. Get in touch to get yourself booked on to one of our many courses including chainsaw training, tree cutting courses and LOLER inspection courses.