Single Rope Techniques for Tree Canopy Access – October 18th 2013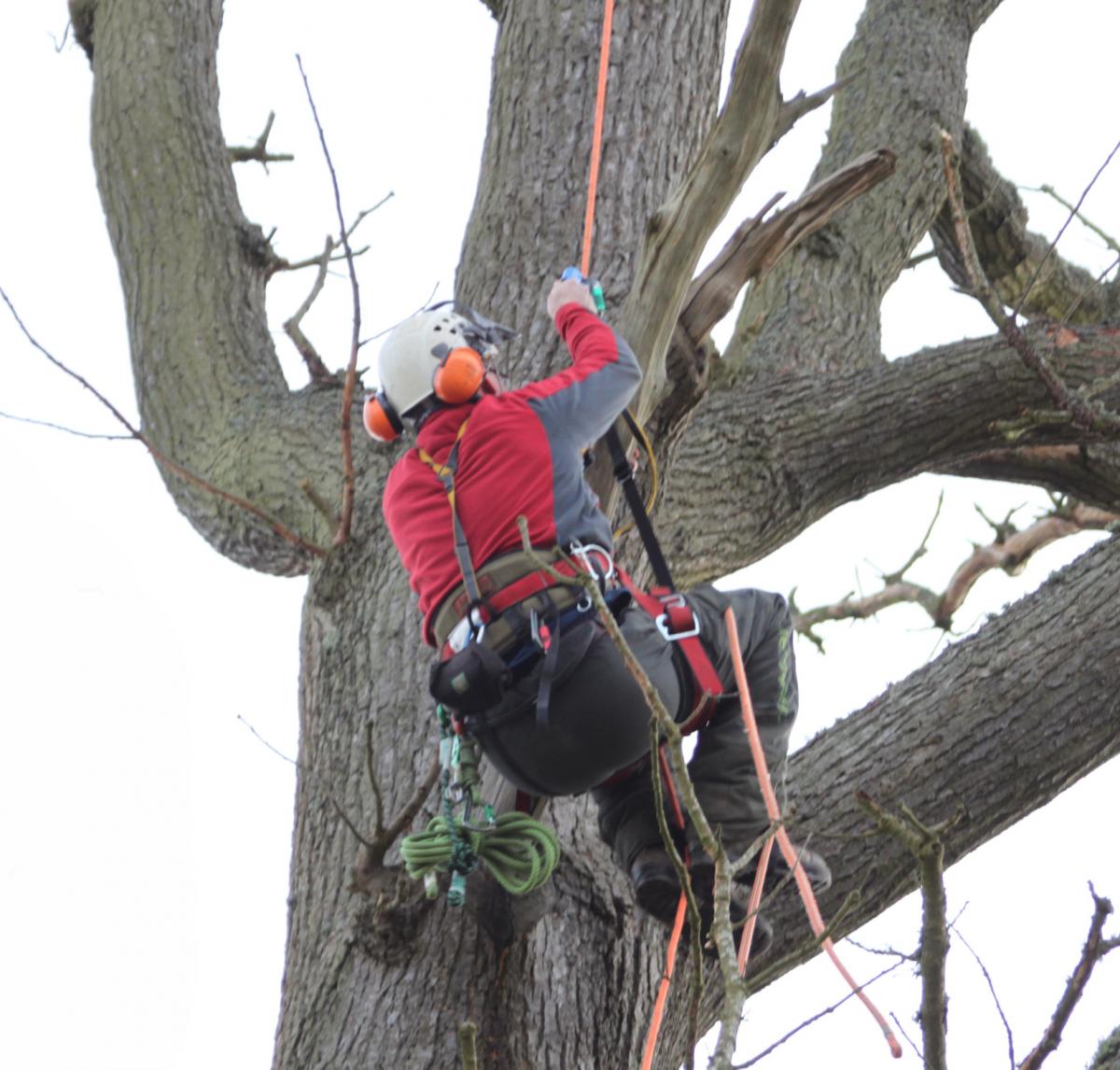 I'm running a workshop on tree canopy access in October, for the Arboricultural Association South East Branch, to be held at my usual Lamberhurst training site.
Accessing the tops of larger trees conventionally (a doubled rope system or drt) can be challenging and whilst the option of a big ladder is very appealing to me it's not always possible to use, and there is a limit to how high it can go (unless that is you've got the Anthill Mob and their hearse based human ladder on site! – apologies to any readers under the age of 40)).
Not only is getting into the tree difficult and more fatiguing more changeovers can increase risk and there can be a reluctance to drop out for regular breaks because the effort of re-climbing the tree is high. The robustness of any rescue plan might also be questioned.
Since I learned these methods around 2006 they have made a big difference to the way I access and then 
climb larger trees. Once a high throwline placement has been made it's quick to set up and test the access line (and yes there are drawbacks with this!). The tree can then be accessed easily and I arrive at or near the top quickly without feeling exhausted, this gives a clear view of the job to be done without the excessive stress build up that can sometimes accompany a drawn out climb to the top using conventional methods.
There are other advantages too, left in place the line can be used again after breaks, or moved to access other sections on very large spreading trees. In the event of a accident, provided the ground crew are all trained in it's use there are also benefits in the provision of aerial rescue. Not only is the line in place, but the less experienced/less frequent climbers have a reasonable chance to get up the tree in a meaningful time frame, albeit they might still have challenges to access the tree canopy.
It's not all good news however, and there are several important safety precautions to make when implementing single rope techniques, such as the forces on anchor points, choosing and combining equipment, how to get a climber down or off a SRT line and how energy is absorbed by the system in case of a fall.
The day is a taster for a larger number of people, the idea being that you can have a look at the options available, see the equipment required and discuss the implications of integrating these methods into your contracting business, either for access but also for aerial rescue. There may be an opportunity to try out a system for some of the group.
Ideally I would then like to deliver a more detailed course to fewer participants where there can be plenty of individual attention, across a range of systems.
The event has been advertised to Arboricultural Association members but I would also like my clients to be aware and have the opportunity to attend – not least to have a few friendly faces on the day!
The course is ideal for those qualified in NPTC Basic Climbing Unit, CS38, now Unit 206, 306 and with a reasonable amount of climbing experience.
The indoor classroom session will be followed by an outdoor session, where techniques can be demonstrated and practiced, however this is not a trainit course for SRT, simply an awareness event!
·      What are Single Rope Techniques 
·      Risk Assessment for access options – don't discount ladders……..
·      Understand the development of SRT and key legislation relating to SRT including Work @ Height Regs
·      Introduce the key terms & concepts associated with SRT, including; forces on anchor points, fallfactors and peak forces.
·      Select equipment for SRT systems
·      Explore a range of SRT systems, Frog, Texas, RAD. 
·      Set anchor points, including lowerable systems
·      Practice techniques 
·      Discuss the range of reference sources, courses & further information on SRT in the arboricultural, recreational, caving & industrial [email protected] sectors
Feedback from the day:
A very good, informative day
Good level of information without overdoing technicial aspects. Gave me a pragmatic view of the use of these systems. Looking forward to further development of SRT. 
All of our training team are Lantra approved arborist instructors. Get in touch to get yourself booked on to one of our many courses including chainsaw training, tree cutting courses and LOLER inspection courses.