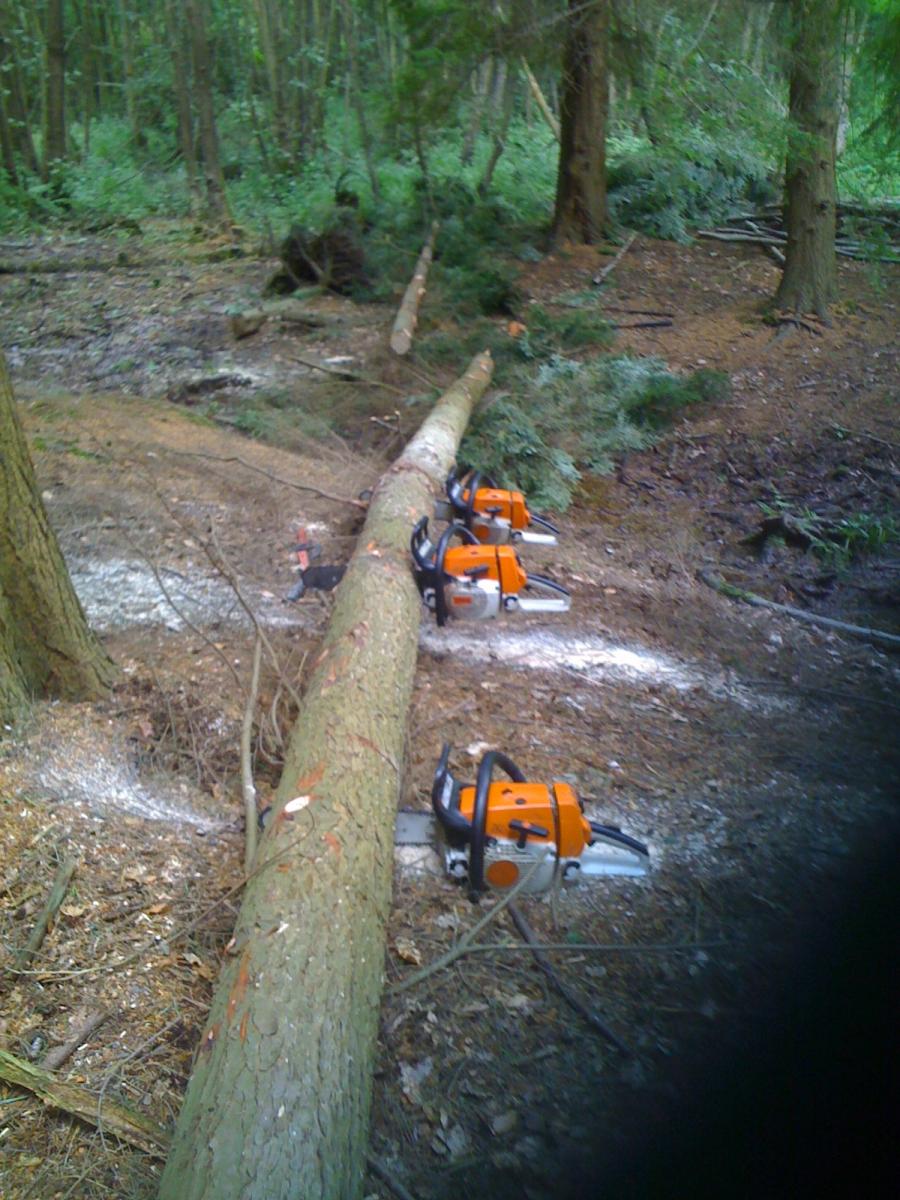 As we all know it, sometimes things don't always go to plan. On the other hand it is often the case that people learn from their mistake, furthermore, whenever something goes wrong during our tree surgery training courses the problem is analysed and a solution is identified by working together as a team. On a recent felling course this August I was reminded when demonstrating a boring cut technique of the pitfalls of this method.
Crosscutting  - can't be that hard surely?
Getting a chainsaw stuck is something that can happen to any chainsaw user, but what has gone on here? Would you be able to avoid this situation? According to the NPTC CS30, accurate crosscutting is required, observing the tension and compression in the timber is essential. 
Well, firstly it's worth defining what tension and compression mean, essentially it is logs supported in different ways, If you are in an office now imagine the pencil is the log - go on it is easier!
When supported at each end the log will tend to fold inwards when cut, with the top in compression (cut or kerf closing) and the bottom in tension (cut or kerf opening) 
When overhanging the log will tend to rip or tear at the bottom if a small cut is not made in this part, the forces of tension and compression are reversed here, with compression underneath and tension on the top.
It's worth mentioning that it's not always as easy as that. Reading the tension and compression (especially on a tree stem rather than a small piece of cordwood) and deciding how to deal with factors such as extreme tension, side tension, position on slopes, trapped material underneath and oversized stems is usually quite difficult.  These are of course all covered on the tree surgery training courses we offer. 
Hopefully, professionals will pick up on the early signs, before the saw is even lightly trapped. These signs include a reduced engine and chain speed and a slight pinching of the bar in the cut. Early action can be taken - in most cases its simply reversing the cut order you first thought of!
What should happen when the chainsaw is actually trapped?
Switch it off, chain brake on
Assess the reason it's trapped and make a plan
Lift, lever, wedge or get help to release the saw
Use another saw to release, at a min of 300mm or more usefully a product length away.
Don't use excessive force to pull the saw out by its handles, antivibration mounts can easily be damaged, and you could also fall over!
Coming back to the picture, the stem was curving down a bank, perhaps making the T&C look neutral, in fact, the stem was mainly supported in the middle, and a boring cut was attempted, firstly taking out the compression below (correctly). Unfortunately, the tension cut was attempted upwards, meaning the full weight of the log was bearing on the bar, resulting in a saw comprehensively trapped. Cut two and three were made in the same way. The correct method, and how the situation was solved (using saw number 4) was by removing the bar and cutting the top (tension side) from above - happy days.
How many wedges does it take to fell a Medium Tree?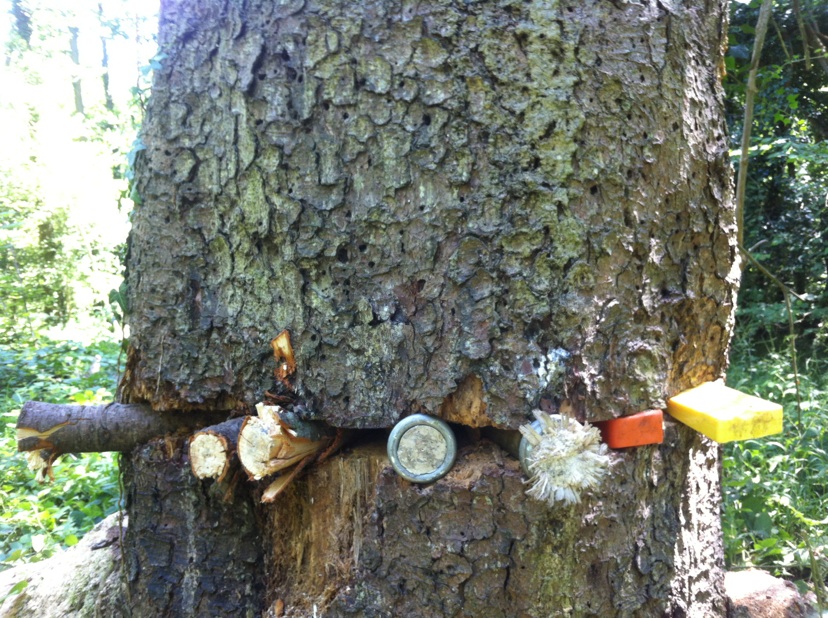 The correct answer here is probably none, but do use a pull rope and make sure the felling cuts are accurate!
All of our training team are Lantra approved arborist instructors. Get in touch to get yourself booked on to one of our many courses including chainsaw training, tree cutting courses and LOLER inspection courses.