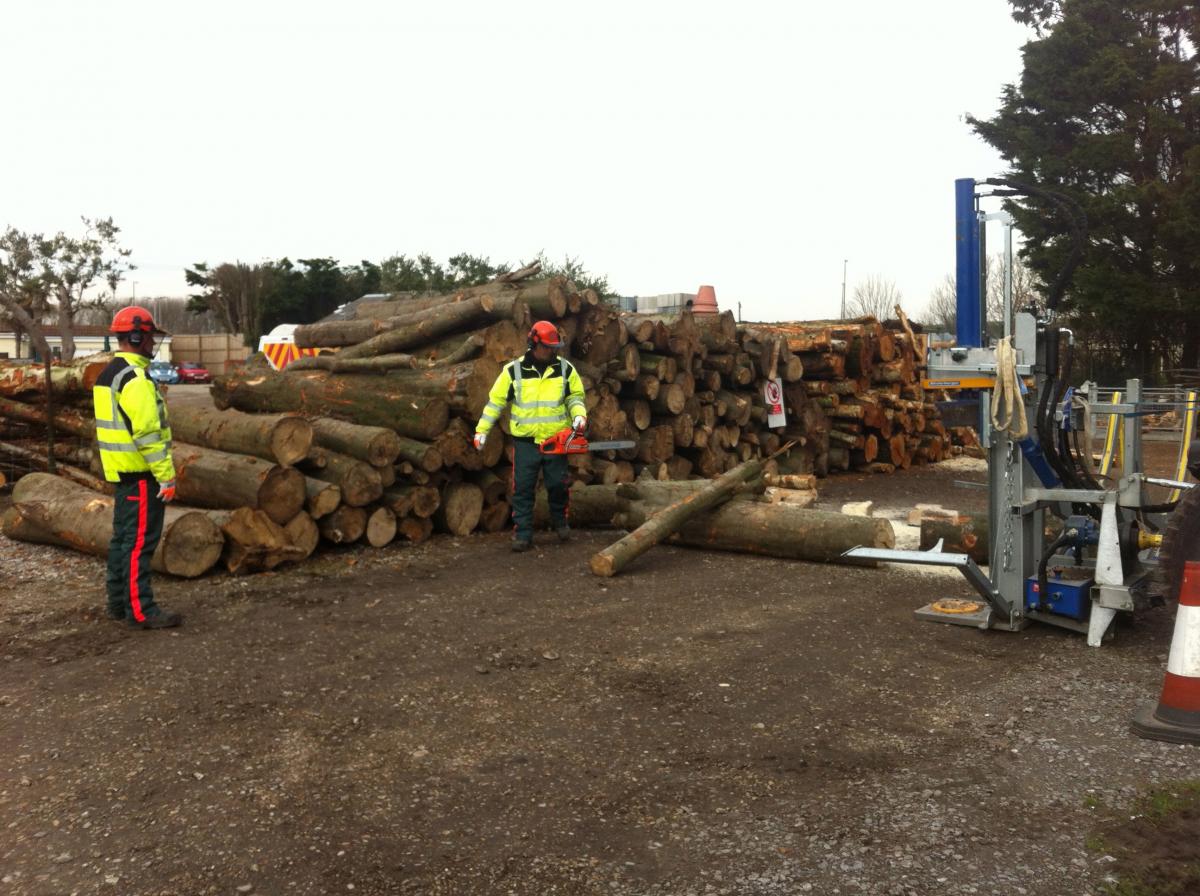 Last week I was in West Sussex on the coast near Littlehampton, delivering a Lantra Awards Integrated Training & Assessment (ITA) in chainsaw maintenance & crosscutting.
As its name suggests this is a training course with the assessment element built in and is good choice for those not intending to be regular chainsaw operators - perhaps this skill is only one small part of their job.
I regularly deliver this course to many clients, including civil and marine engineering companies, the only downsides are that there is no option to progress through the NPTC suite of qualifications, and of course there is not the rigor of independent assessment.
The course content covers everything needed prepare a chainsaw, a site and put in place basic risk assessment and other legislative requirement. (Course objectives in full below) For this client I also looked at the log processing in order to integrate the chainsaw training to their actual activity, rather than in isolation, this raised some key safety points:
·      Safe distances and communication between operators and operations!
·      Stack safety, height, un-stacking, via telehandler
·      Manual handling of the cut sections.
·      Cutting oversize logs – reduction, roll- around and larger bar all used.
·      Accurate measurements essential
The client has recently added firewood to their product range and I was interested to see their approach, as it is quite unusual, and from a start in early summer has been successful in terms of sales but also especially in customer satisfaction – the logs really are the cleanest and driest I have ever seen!
Making money from log sales is a challenge, and buying wood in and then seasoning and processing it is even more so, what's clever about this approach is that the stock level required is less because seasoning is speeded up by the conversion to billets and then the billets are subsequently converted to logs of various sizes.
Minimal sawdust is produced from the circular saw, the logs are cleanly split to a uniform section plus crosscut to uniform 20, 25 or 30cm, anything outside goes into into the offcut pile.
Handling is mechanised via an existing telehandler on pallets, then into greenhouse for drying and then further processing, into bulk bags and then via tail lift on pallet truck even right into a clients garage.
Whilst there is a fair amount of handling here a ready labour force with less to do in the winter fits in well, together with spare space in the glasshouses for drying. 
As I write this, a log enquiry has come in illustrating the challenge of selling a quality product at the right price -  "I'm burning some pine at the moment and it's really not lasting long, so I need good quality hardwood – can you help?……… but you're a bit more than I have been paying"
Objectives                 Chainsaw Maintenance and Crosscutting
Identify the necessary Personal Protective Equipment
Report on its condition and locate standard marks
Identify health & safety features required on a chainsaw
Identify faults and defects on a chainsaw and cutting equipment and decide which the operator can remedy and which require a service engineer's attention.
Carry out correctly all routine maintenance in accordance with the manufacturers instructions
Prepare the chainsaw for use with the correct fuel/oil mix and saw chain lubrication.
Start the chainsaw from both hot and cold in a safe manner
Carry out pre-cutting tests and state the procedures if the chainsaw fails these tests
State the hazards/risks when carrying out maintenance or operational tasks
Cross-cut timber accurately to required lengths
Assess and explain the terms tension and compression in timber
Adopt safe procedures to remove a trapped guide bar
Handle and stack timber in a safe manner
Organise site safety and state the procedures required
All of our training team are Lantra approved arborist instructors. Get in touch to get yourself booked on to one of our many courses including chainsaw training, tree cutting courses and LOLER inspection courses.